Since I've been sadly neglecting my blog lately (due to new grandbaby, launching new business, life, etc.) my readership has dropped.
Please help me spread the word about my Luau Love Extravaganza going on NOW through the end of next week. Prizes every day.
You get one entry for each of the following things you do:
Post

about it on your blog and include a link back to my site. (You can put the picture in your sidebar, if you want.)



Tweet

it with link to my blog.



Facebook

it with link to my blog.



E-mail

your friends about it, with link to my blog.

Leave a comment letting me know what you did so I'll know how many entries you get. In addition to choosing one of these prizes, I'll have something extra special for the winner of this contest.
Comment Deadline: Friday, May 14th.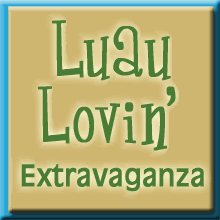 Flashy Button Code (220 px)


<div align="center"> <a href="http://inksplasher.blogspot.com/"><img src="http://i177.photobucket.com/albums/w213/rakrose/LuauButton_220.gif" /></a></div>
Flashy Button Code
(125 px)
<div align="center"> <a href="http://inksplasher.blogspot.com/"><img src="http://i177.photobucket.com/albums/w213/rakrose/LuauButton_125.gif" /></a></div>